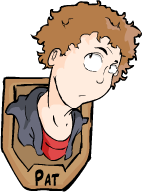 2012-09-09
Pat
#168: Stella and Adrian @ Home 2
It's been a while for us here at Funk Sandwich, but you know what? It still feels good to come back every once in a while. We've all been doing our own things lately, and for what it's worth, I still think we can come together and make some damn good comics.
I'm sure we'll find a way to make more than three comics this year, even if there's only four months left to do it in (ambitious, I know). We'll see where we get before the new year.
Push it real.
Pat out.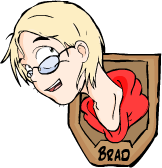 Brad
2012-08-26
Hi everyone. Or anyone for that matter. It's been a long long time. I appreciate everyone or should I say anyone's efforts who have stuck with us or even just passed on by in the meanwhile.
In our hiatus we've all been up to many things. Dan's moved out and off to Boston. Me and Pat have found, lost, and won some love. And all in all Id say we've learned about ourselves during this whole process.
I've took the liberty of going through the first few Funk Sandwiches we ever put out and updating them for the convenience of those who've never been to our site before. I hate to scare anyone off without showing them what things will be like a hundred comics later. And, Oh! TOo, we've put up the latest comic on the every expanding adventures of Stella and Adrian. In all reality its some of the animation I salvaged from our ill-conceived attempt to make a web show. Either way it's worth a laugh.
But alack and alas I've got nothing more to say. You'll keep on funking.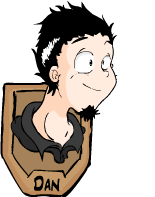 Dan
Greetings connoisseurs of the Funk Delicatessen. If you haven't been here in a while, I'm pleased to inform you that despite any economic downturns, our menu is filled with brand new offerings for low, low prices! A small selection of which includes:
A Brand New Layout on Rye!
Fewer Confusing Navigation Buttons with fries!
Nifty Adspace Soup!
Calendars with Correct Dates in Regular and Diet!
And many more hidden and/or soon to arrive surprises!

So, I hope you enjoy your meal. Thanks for coming in today and let me know if there's anything I can do for you.
Enjoy the Sandwich!

- Dan